"HE DISAPPEARED FOR 15 YEARS…UNTIL THE DAY OF THE MURDER.

After a puzzling death in the wild bushlands of Australia, detective Dana Russo has just 12 hours to interrogate the prime suspect – a silent, inscrutable man found at the scene of the crime, who disappeared without trace 15 years earlier.

But where has he been? Why won't he talk? And exactly how dangerous is he? Without conclusive evidence to prove his guilt, Dana faces a desperate race against time to persuade him to speak. But as each interview spirals with fevered intensity, Dana must reckon with her own traumatic past to reveal the shocking truth . . .

Compulsive, atmospheric and stunningly accomplished, HERMIT introduces a thrilling new voice in Australian crime fiction, perfect for fans of Jane Harper's THE DRY and Chris Hammer's SCRUBLANDS."
Hello and welcome to damppebbles. Today I am delighted to be sharing my review of Hermit by S.R. White. Hermit was published by Headline on 15th April 2021 and is available in all formats.
I couldn't resist this book. I'm a sucker for Australian crime fiction and Hermit seemed to fit the bill quite nicely. This is S.R. White's debut with the follow-up – Prisoner – being released later in 2021 (and I can't wait to read it!).
Detective Dana Russo is called on her day off to the scene of a murder. They have a suspect in custody but something just doesn't feel right. Dana is tasked with interrogating the suspect, Nathan Whittler, discovering if he's guilty and securing a confession. But despite the police department's best efforts, they can find no up-to-date record of Nathan. It's almost like he hasn't existed for the last 15 years. Who killed the shopkeeper? Where has Nathan been for 15 years? And most importantly of all, what is he hiding….?
I enjoyed this book but the first thing I feel compelled to say about it is that I did have a couple of teeny tiny issues with it. However, the compelling character-driven plot and the intriguing way the author sets out his story completely won me over. I won't go into any real detail as to what those niggles were, as I think that will spoil the book for new readers, but I will say I have a pet peeve when it comes to crime fiction and unfortunately the author based some of this story around that pet peeve. He's not the first and he won't be the last but safe to say, it's something I find quite frustrating and therefore felt the need to mention it.
Hermit is a very intriguing character driven mystery which I enjoyed. Detective Dana Russo is a woman with a dark past. The author does a terrific job of teasing his readers with glimpses into Dana's mind and showing us her internal fragility throughout the story. Towards the end of the book you do discover a little more about Dana's past but I don't think we know the whole story yet. I think there's more to come, and I am keen to learn what it is.
When Bill Meeks, Dana's boss, calls her into work on a day off – a day she takes as paid leave every year – Dana is thrown. But it might just have saved her life. Pitting her against silent Nathan is a work of genius as the two seem to have some sort of odd connection. To get Nathan to talk, Dana has to share some of her personal thoughts and experiences, whilst remaining professional and distant at all times. A large proportion of this novel is the police interview between Dana and Nathan which won't be to everyone's taste but I found it fascinating and was keen to read on. It's a gradual, intricate unravelling of a life and I was completely absorbed.
The other members of the small team all add to the story. I particularly liked feisty administrator, Lucy. Her quick witted banter with colleague, Mike, added a lighter note to proceedings, which I enjoyed. I'm keen to read more about these characters, I think the author has created something quite special and I already feel invested. Perhaps a strange thing to say after one book but true, nonetheless.
Would I recommend this book? I would, yes. Despite a couple of tiny niggles, I found Hermit to be a compulsive read. It's a slow-burn mystery perfect for fans of character driven novels. I can't put my finger on it but there's 'something' about these characters and I want to know more. A well-written and bravely different mystery which I really enjoyed. Recommended.
Hermit by S.R. White was published in the UK by Headline on 15th April 2021 and is available in hardcover, paperback, audio and digital formats (please note, the following links are affiliate links which means I receive a small percentage of the purchase price at no extra cost to you): | amazon.co.uk | Waterstones | Foyles | Book Depository | bookshop.org | Goodreads | damppebbles bookshop.org shop |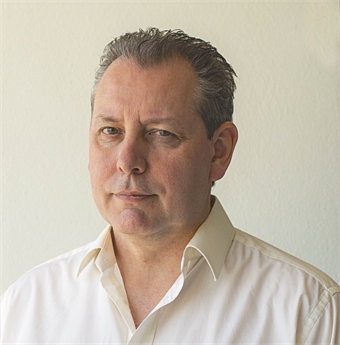 S.R. White worked for a UK police force for twelve years, before returning to academic life and taking an MA in Creative Writing at Nottingham Trent University. He now lives in Queensland, Australia.