"Let me repeat myself, so we can be very clear. Women are not the enemy. We must protect them from themselves, just as much as we must protect ourselves.

Imagine a world in which witchcraft is real. In which mothers hand down power to their daughters, power that is used harmlessly and peacefully.

Then imagine that the US President is a populist demagogue who decides that all witches must be imprisoned for their own safety, as well as the safety of those around them – creating a world in which to be female is one step away from being criminal…

As witches across the world are rounded up, one young woman discovers a power she did not know she had. It's a dangerous force and it puts her top of the list in a global witch hunt.

But she – and the women around her – won't give in easily. Not while all of women's power is under threat.

The Coven is a dazzling global thriller that pays homage to the power and potential of women everywhere."
Hello and welcome to damppebbles. Today I am delighted to share my review of The Coven by Lizzie Fry. The Coven was published by Sphere Books in paperback on 2nd September 2021 and is also available in hardcover, audio and digital formats. I chose to read a free copy of The Coven which has in no way influenced my review. My grateful thanks to Lizzie for sending me a finished copy.
As Halloween approaches many readers change their reading habits to include the witchy, the ghostly and the ghoulish. Not me. Halloween is great but the supernatural and the scary work all year long, right? Summer, bring it on. Christmas, the perfect time to scare yourself witless. I've realised though that I haven't read many books featuring witches. So when I received a gifted copy of The Coven by Lizzie Fry, I moved it straight to the top of the TBR. And I'm so glad I did. The Coven is a superbly crafted, high-energy, international thriller that starts at a cracking pace and doesn't let up until the final word.
After many years of living relatively peacefully side by side, the President of the US declares all witches should be voluntarily imprisoned for their safety and for others. The Sentinel are charged with rounding up those who don't present themselves and they'll do whatever it takes to get the job done. But a good few thousand miles away, in the city of Exeter, nineteen year old Chloe Su is about to come into her powers. With the help of her father, a newly escaped crystal witch, and the Sentinel Agent who broke the witch free, Chloe takes the first step on a journey which will take her across international borders and into more danger than she ever thought possible…
Powerful, gutsy women lead the cast in a thrilling, non-stop race against time. Bloody marvellous! Fry has created a dark, edgy thriller in an alternative world where some of the female population are considered by non-magical folk as the scourge of the earth. All because the big guy in the White House says so! The men reign supreme. The divide between the genders – which includes the non-magical women who are labelled by the menfolk as 'Goody's' – is vast. Fry has created such a strong divide between the genders that it made my blood boil at points. But in the best way possible. I have read other dystopian novels where the storyline centres around a similar male/female divide but Fry outshines them all with The Coven. I was angry for the women, I wanted justice and recognition for them. I wanted them to escape from the oppressive misogynistic regime they were forced under thanks to the Sentinel. It's safe to say I was rooting for them 100%.
The Coven is a fast paced, thrill-ride of a story which doesn't let up until the nail biting conclusion. Along the way we meet several interesting, well-written characters. Some I warmed to, others not so much (they're kind of despicable, horrible human beings – but again, very well-written). My favourite character was Daniel, Chloe's father, who is thrown into a world he knows nothing about with a ferocity that would leave others running for the hills. (I should mention at this point that not all male characters in the book are crazed zealots out to destroy womankind – only some of them!!) I also really liked Ethan who, despite being on the wrong side for so long, realises his mistake and does absolutely everything he can to make amends. My heart went out to Chloe who, at the age of nineteen, suddenly has the weight of the world on her shoulders. It's a pretty hefty cross to bear when you're only just starting to learn who, or what, you are yourself.
Would I recommend this book? I would, yes. Fry's feminist debut is a thrilling, beautifully intense tale which I struggled to tear myself away from. I was drawn into this alternate world from the get-go and what a ride it was! I thoroughly enjoyed the time I spent with these intelligent, fearless, fiery women and I look forward to seeing what the author has in store for us next. Fans of dystopian thrillers featuring strong female characters will adore this gripping read. Recommended.
I chose to read and review a free copy of The Coven. The above review is my own unbiased opinion.
The Coven by Lizzie Fry was published in the UK by Sphere Books on 2nd September 2021 and is available in hardcover, paperback, audio and digital formats (please note, the following links are affiliate links which means I receive a small percentage of the purchase price at no extra cost to you): | amazon.co.uk | Waterstones | Foyles | Book Depository | bookshop.org | Goodreads | damppebbles bookshop.org shop |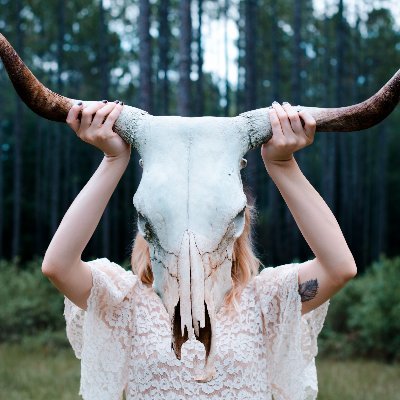 Lizzie is the author of The Coven, a dystopian thriller for Sphere Books which asks readers to imagine a world in which witchcraft is real, passed down mother to daughter … and men will do absolutely everything they can to stop them.
A fan of such books as The Handmaid's Tale and A Discovery of Witches, the idea came to Lizzie because she lives in Devon. It was one of the hardest hit areas in England during the witch hunts of the middle ages. There are many monuments to these murdered women in and around the South West. Exeter is officially the first and last place in the UK to hang a witch, which is why Lizzie chooses to kick off the story there.