"THE LAST THING A TWIN EXPECTS IS TO BE ALONE …

Molly lives a quiet, contained life in London. Naturally risk averse, she gains comfort from security and structure. Every day the same.

Her identical twin Katie is her exact opposite: gregarious and spontaneous. They used to be inseparable, until Katie moved to New York a year ago. Molly still speaks to her daily without fail.

But when Molly learns that Katie has died suddenly in New York, she is thrown into unfamiliar territory. Katie is part of her DNA. As terrifying as it is, she must go there and find out what happened. As she tracks her twin's last movements, cracks begin to emerge. Nothing is what it seems. And a web of deceit is closing around her.

Delivering the same intensity of pace and storytelling that made THE LAST THING TO BURN a word-of-mouth sensation, FIRST BORN will surprise, shock and enthral."
Hello and welcome to damppebbles. Today I am delighted to be joining the First Born blog tour. First Born by Will Dean was published last week (that's Thursday 14th April 2022) and is available in hardcover, audio and digital formats with the paperback to follow. I chose to read and review a free ARC of First Born but that has in no way influenced my review. My grateful thanks to Jenny at Hodder & Stoughton for sending me a proof copy.
When asked if I would like to read the latest Will Dean novel, I obviously jumped at the chance (you'd be bonkers not to!). Over the course of a few short years this author's work has become hugely popular with a loyal fanbase. Which is why it's very embarrassing to admit that until I picked up my copy of First Born, I hadn't read any of Dean's previous books. To further confirm what a wally I am, the author's previous release with Hodder – The Last Thing to Burn – was the joint winner of #R3COMM3ND3D2021. I know, I'm hanging my head in shame. But I have corrected my horrible oversight now. I have read First Born and I can confirm it's an absolute corker of a novel!
Molly and Katie Raven are identical twins, but they couldn't be more different if they tried. Katie is the life and soul of the party. Outgoing, unafraid, she lives in the here and now, grabbing every opportunity that comes her way. Molly is introverted, risk adverse to the point it's become a problem, planning her outings to the nth degree and ensuring she's ready and equipped for any event. When Molly learns that Katie has died suddenly in her New York apartment, Molly's world turns upside down. Despite her fears, she knows she must go to New York and discover what happened to her sister. But on arrival it's clear to Molly that things aren't quite what they seem and Katie has been murdered…
What a compelling, twisty read First Born is! I thoroughly enjoyed this book from the moment I met Molly to the jaw dropping final chapter. Intricately plotted and utterly gripping, I was completely absorbed by Dean's writing and I savoured every moment of it. Molly is an unusual character and for that, I really liked her. I found her fascinating – her plotting and planning, her forward thinking and the ingenious solutions she found to get herself out of a tricky spot, *should* one arise.
The book is expertly paced and the mystery behind what happened to Katie made for an intriguing read, so much so that I was trying hard to spot where the story was headed. One of the big twists I was able to guess from fairly early on. The other blew my mind. Clever, very clever. I will say that although I was able to guess one aspect of the story it didn't spoil my enjoyment at all. Even though I was pretty sure I knew what was coming, I still let out a little gasp of shock which I think is testament to the author's skill.
Would I recommend this book? I would, yes. First Born is a well-written, unique and clever tale featuring an unforgettable character who really left her mark on me.  I really enjoyed this book and finished it in a few short sittings, keen to return to New York, and to unconventional Molly, time and time again. It goes without saying that I will, of course, be reading more of this author's books as soon as time allows, starting with The Last Thing to Burn. An excellent thriller chock full of suspense and tension. Recommended.
I chose to read and review a free ARC of First Born. The above review is my own unbiased opinion.
First Born by Will Dean was published in the UK by Hodder & Stoughton on 14th April 2022 and is available in hardcover, audio and digital formats with the paperback to follow (please note, the following links are affiliate links which means I receive a small percentage of the purchase price at no extra cost to you): | amazon.co.uk | Waterstones | Foyles | Book Depository | bookshop.org | Goodreads | damppebbles bookshop.org shop |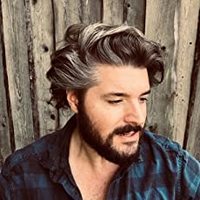 Will Dean grew up in the East Midlands, living in nine different villages before the age of eighteen. He was a bookish, daydreaming kid who found comfort in stories and nature (and he still does). After studying Law at the LSE, and working in London, he settled in rural Sweden. He built a wooden house in a boggy clearing at the centre of a vast elk forest, and it's from this base that he compulsively reads and writes. He is the author of Dark Pines.