"He is her husband. She is his captive.

Her husband calls her Jane. That is not her name.

She lives in a small farm cottage, surrounded by vast, open fields. Everywhere she looks, there is space. But she is trapped. No one knows how she got to the UK: no one knows she is there. Visitors rarely come to the farm; if they do, she is never seen.

Her husband records her every movement during the day. If he doesn't like what he sees, she is punished.

For a long time, escape seemed impossible. But now, something has changed. She has a reason to live and a reason to fight. Now, she is watching him, and waiting . . ."
Hello and welcome to damppebbles. Today I am delighted to share my review of The Last Thing to Burn by Will Dean. The Last Thing to Burn was first published by Hodder & Stoughton on 7th January 2021 and is available in hardcover, paperback, audio and digital formats.
The Last Thing to Burn is one of the biggest books of the last year, without a doubt. I see it discussed on social media a lot, I see it recommended even more. So much so that I made it one of my '12 books in 12 months' challenge picks as it was suggested by three (count 'em, three!) fabulous reviewers (I'm looking at you @Zoebeesbooks, @Littlemissbook6 and @DelishBooks). And if you're a regular visitor to damppebbles then you may remember that it was joint winner of #R3COMM3ND3D2021 which immediately makes it a must read for me. Having read the book, experienced its darkness and come out the other side sobbing big, fat, ugly tears I can say I wholeheartedly agree with the exceptional praise this novel has received. The Last Thing to Burn is a truly unsettling, uncomfortable read but it's essential reading. Devastating, heart breaking but an absolute must read.
Jane and Leonard live together at Fen Farm surrounded by nothing but vast fenland. Leonard is content with his life. He works the land, tends the pigs and comes home to his dinner on the table every night. Jane, his wife, is a prisoner. Very few people know of Jane's existence and that's the way it will remain. She cooks, cleans and performs other duties Leonard expects of a wife. She has no choice, otherwise she is punished. She's watched by cameras 24/7. There is no escape. And definitely no hope. Until something changes. Until a fire is lit within Jane's being. Now it's her turn to watch Leonard, and wait…
The first thing to say about The Last Thing to Burn is that it's not an easy read and if you're looking for something light then this book is not it. Far from it. It's dark, it's horrifying, and it's harrowing from start to finish. It's also hugely compelling, utterly absorbing and the tension is pinpoint sharp. My heart broke multiple times. I felt I needed to take a break on several occasions but I just could not tear myself away from Dean's writing and characterisation.
The characters are frighteningly believable. To me they were real and I lived the horrors of life at Fen Farm alongside them. 'Jane' is perfection on a page. I adored her and was hoping, even when it seemed as though all hope had been extinguished, that there would be some small sliver, some ray of light that meant she would come out of this on top. Leonard is utterly despicable, a loathsome brute of a man, but I thought the way the author wrote him was an absolute masterclass in writing a villain. He made my blood boil. I don't think I've ever felt that angry or furious towards one character before. Superbly done.
Would I recommend this book? I would, yes. The Last Thing to Burn is deeply unsettling and utterly unnerving. The most uncomfortable book I've read this year and rightly so. The subject matter should make us feel uncomfortable. I think something has gone horribly wrong if it doesn't. The writing is stunning, the characterisation is superb and the setting is perfectly claustrophobic and horribly visual. I could picture the scenes in my mind perfectly. That dank and depressing kitchen with the Rayburn *shudder*. This is an unforgettable novel and I now fully understand why so many reviewers recommend it. Allow me to add my voice to the masses. If you're a reader of dark fiction and you haven't picked up The Last Thing to Burn yet then what are you waiting for? You need this book in your life. Highly recommended.
The Last Thing to Burn by Will Dean was published in the UK by Hodder & Stoughton on 3rd February 2022 and is available in hardcover, paperback, audio and digital formats (please note, the following links are affiliate links which means I receive a small percentage of the purchase price at no extra cost to you): | amazon.co.uk | Waterstones | Foyles | Book Depository | bookshop.org | Goodreads | damppebbles bookshop.org shop |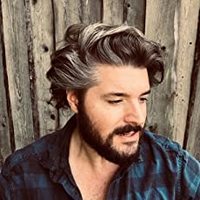 Will Dean grew up in the East Midlands, living in nine different villages before the age of eighteen. He was a bookish, daydreaming kid who found comfort in stories and nature (and he still does). After studying Law at the LSE, and working in London, he settled in rural Sweden. He built a wooden house in a boggy clearing at the centre of a vast elk forest, and it's from this base that he compulsively reads and writes. He is the author of Dark Pines.