"Lore Rivera was married to two men at once, until on a baking hot day in 1986, one of them found out and shot the other.

That's the story the world knows.

It's not the story that fascinates Cassie Bowman.

Determined to know more about the mysterious Lore, true-crime writer Cassie is surprised to find Lore is willing to talk.

But as the two women get closer, Cassie finds herself confessing her own darkest secrets.

And the shocking truth behind the murder all those years ago . . ."
Hello and welcome to damppebbles. Today I am delighted to share my review of More Than You'll Ever Know by Katie Gutierrez. More Than You'll Ever Know was published in the UK by Penguin Michael Joseph last week (that's Thursday 7th July 2022) and is available in hardcover, audio and digital formats with the paperback to follow. I chose to read a free eARC of More Than You'll Ever Know but that has in no way influenced my review.
My reading schedule for July and August was overflowing a few weeks ago. To the point where I was reading all day, every day in an attempt to catch up. And then More Than You'll Ever Know landed on my radar, helped by a blogger friend whose opinion I really trust. She said it was a masterpiece of literary fiction and compared the writing to one of my all time favourite authors. Resistance was indeed futile. So this beauty was added to the TBR and prayers were whispered to an almighty deity that I would be able to get everything I needed to read, read in time. I thoroughly enjoyed this beautiful piece of true crime-esque fiction, but my TBR is still utterly terrifying and there's doubt I'll make it out the other end alive 😂
True crime blogger Cassie Bowman is on the hunt for her next story. The pressure is on to find something that will grab her mainly female audience's attention and get her visitor numbers up. That's when she stumbles upon a piece about a woman who wanted it all. Lore Rivera was married to two men. One man in Texas with whom she had two sons, and one ready made family in Mexico City. Lore was living two lives until the day her Mexican husband, Andres, turned up unexpectedly in Texas. The devastation of Lore's lie, her deceit, sent her Texan husband to Andres's hotel room where he shot him in cold blood. But Cassie feels there's more to the story than meets the eye. She wants to tell the story from a different perspective so reaches out to Lore for her side of things. The two women become closer, sharing secrets they've both held close for years. But the more Cassie discovers, the more confident and excited she becomes about the success of the project. She's on to something with Lore's story, she just knows it! What really happened that fateful summers day in 1986…
More Than You'll Ever Know is an engrossing book with beautifully written characters and an utterly riveting plot which takes the reader to the heart of one woman's devastating deceit. You would think it was hard to feel any compassion towards Lore but she's so perfectly human that the reader actually ends up being quite fond of her, or I did anyway! Gutierrez scrapes away the outer layers of Lore's character – the successful businesswoman, the mother of twins, the wife of a local tradesman – and presents the reader with her inner most thoughts, feelings and desires in the most exquisite and captivating way.
When Lore is approached by Cassie to tell her side of the story, she feels drawn to the younger woman. The chemistry these two characters have is magnetic and I was drawn into their story – and it is their story. A deal is struck and in return for sharing the past, Cassie begins to share her own closely guarded secrets. I loved the character of Cassie just as much as I loved Lore. These two women with their complicated lives and troubled pasts made for the most sublime reading experience and it will be impossible for me to forget either of them.
Would I recommend this book? I would, yes. More Than You'll Ever Know is a superbly written debut which ticked all of the boxes for me. The unravelling of the mystery drew me into the story, the true crime element worked beautifully, the settings – both Mexico City and Loredo, Texas – were vividly drawn by the author and I could picture the scenes unfolding clearly in my mind. I loved the dual timeline where the reader gets to meet Lore and Cassie in the present day but we also get to sneak a look behind the curtain with flashbacks to Lore's life in 1985/6 and the path she took to the ultimate deception. Plus, of course, the night of the shooting. The entire book worked for me. But the characters, they were EVERYTHING. More Than You'll Ever Know is a sublime novel which, if you're a fan of beautifully written literary mysteries you will devour. I was completely entranced and captivated by this stunning novel. Highly recommended.
I chose to read and review a free eARC of More Than You'll Ever Know, The above review is my own unbiased opinion.
More Than You'll Ever Know by Katie Gutierrez was published in the UK by Penguin Michael Joseph on 7th July 2022 and is available in hardcover, audio and digital formats (please note, the following links are affiliate links which means I receive a small percentage of the purchase price at no extra cost to you): | amazon.co.uk | Waterstones | Foyles | Book Depository | bookshop.org | Goodreads | damppebbles bookshop.org shop |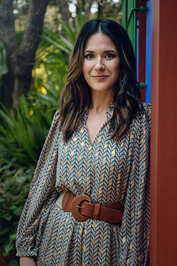 Katie Gutierrez is the author of the debut novel MORE THAN YOU'LL EVER KNOW, which will be published by William Morrow in the U.S. and Penguin Michael Joseph in the U.K. on June 7, 2022. She has an MFA from Texas State University, and her writing has appeared in TIME, Harper's Bazaar, the Washington Post, Longreads, and more. She lives in San Antonio, Texas, with her husband and their two kids.