"What if your mother had been writing to a serial killer?

A convicted murderer with a story to tell

Serial killer Michael Reave – known as The Red Wolf – has been locked in Belmarsh Prison for over 20 years for the brutal and ritualistic murders of countless women.

A grieving daughter with a secret to unearth

Ex-journalist Heather Evans returns to her childhood home after her mother's inexplicable suicide and discovers something chilling – hundreds of letters between her mother and Reave, dating back decades.

A hunt for a killer ready to strike again

When the body of a woman is found decorated with flowers, just like his victims, Reave is the only person alive who could help. After years of silence, he will speak to Heather, and only Heather.

If she wants to unearth the truth and stop further bloodshed, she'll have to confront a monster."
Hello and welcome to damppebbles. Today I am delighted to share my review of Dog Rose Dirt by Jen Williams. Dog Rose Dirt is published today (that's Thursday 22nd July 2021) by Harper Collins and is available in hardcover, audio and digital formats with the paperback to follow in 2022. I chose to read and review a free eARC of Dog Rose Dirt but that has in no way influenced my review.
There was no way on this earth I was going to be able to resist this book. The cover is stunning, the title is quite different to everything else out there so it immediately grabbed my attention, and the words 'serial killer' had me downloading a copy faster than you could say, well, 'serial killer'!
Heather Evans receives dreadful news which sends her rushing back to the town, and the house, she grew up in. Her mother, who Heather readily admits she hasn't really seen or spoken to for a while, has committed suicide. The note she left was confusing. Heather can't quite believe it's true but begins the unenviable task of packing up her childhood home. But sifting through the mundane, Heather finds letters going back years between her mild-mannered mother and the notorious serial killer known to all as The Red Wolf, Michael Reave. It makes no sense. But ex-journalist Heather is determined to find out why her mother has been sharing such personal correspondence with a convicted killer for decades. Particularly as the body of a woman has just been found, decorated with flowers, just as Reave used to do with his victims…
Heather's story and her search for the truth had me glued to the pages throughout this intriguing crime debut. How well do we really know those we're closest to? Probably not as well as we think! And that's one of the main hurdles Heather has to cross in the unravelling of her mother's life. Due to the recent bout of killings, which undeniably have a link to Reave in their similarity, Heather arranges to meet with the Red Wolf. She plans on using her journalistic skills to get the truth about her mother from the killer and discover more about their shared friendship, along with finding out her mother's state of mind before she took her own life and wrote that strange suicide note. But Michael is intent on only sharing fables and morbid fairy tales which confuse and frustrate Heather, along with the police team investigating the recent murders.
Would I recommend this book? I would, yes. Dog Rose Dirt is a well-written slow burn mystery which I found to be a compelling page turner. Some aspects of the story I guessed from fairly early on. Others I didn't. This is the author's debut crime novel but she's an established writer in a different genre, which shows in the construction of the story and the narrative. Heather isn't the most appealing of central characters but she had a rawness and a realness about her which I really appreciated. I don't think you have to fall in love with a lead to become part of their story, I've said something along these lines many times before, but I was cheering her on. I wanted her to discover the truth, whatever that would be. I enjoyed Dog Rose Dirt and I would happily read more crime fiction written by this author. I hope there's more to come. Recommended.
I chose to read and review a free eARC of Dog Rose Dirt. The above review is my own unbiased opinion.
Dog Rose Dirt by Jen Williams was published in the UK by HarperCollins on 22nd July 2021 and is available in hardcover, audio and digital formats with the paperback to follow in 2022 (please note, the following links are affiliate links which means I receive a small percentage of the purchase price at no extra cost to you): | amazon.co.uk | Waterstones | Foyles | Book Depository | bookshop.org | Goodreads | damppebbles bookshop.org shop |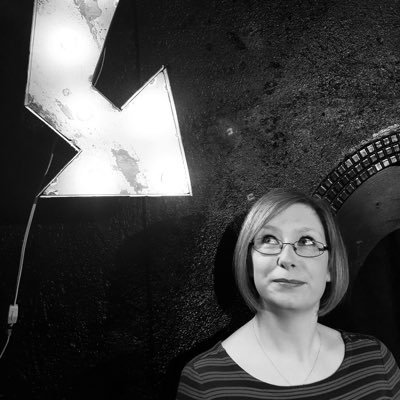 Jen Williams lives in London with her partner and their small ridiculous cat. A fan of pirates and dragons from an early age, these days she writes character-driven fantasy novels with plenty of banter and magic, and dark unsettling thrillers with strong female leads. In 2015 she was nominated for Best Newcomer in the British Fantasy Awards. She is represented by Juliet Mushens of Mushens Entertainment.
The Copper Cat trilogy consists of The Copper Promise, The Iron Ghost and The Silver Tide – all published by Headline in the UK – and the first two books in the trilogy are available in the US and Canada, published by Angry Robot. Both The Iron Ghost and The Silver Tide have also been nominated for British Fantasy Awards, and she is partly responsible for founding the Super Relaxed Fantasy Club, a social group that meets in London to celebrate a love of fantasy.
Her second fantasy series, the Winnowing Flame trilogy, kicked off with The Ninth Rain and The Bitter Twins, and ended with The Poison Song in May 2019. The Ninth Rain and The Bitter Twins both went on to win the British Fantasy Award for Best Fantasy Novel in their respective years. When not cursing herself for writing really long books, she can be found writing advertising copy for books, or selling books. It's all about books, really.
Her latest novel, Dog Rose Dirt, a thriller, will be published in July 2021 in the UK by HarperCollins, and in the US by Crooked Lane under the title A Dark and Secret Place. It has also sold in Germany, Brazil and Spain. Interests outside of reading and writing include drawing witches, playing video games, and watching cartoons. She has a particular passion for animation and history, and will bore you to death about either if she gets half a chance.