"This is going to be the longest week of Washington Poe's life…

Detective Sergeant Washington Poe can count on one hand the number of friends he has. And he'd still have his thumb left. There's the guilelessly innocent civilian analyst, Tilly Bradshaw of course. Insanely brilliant, she's a bit of a social hand grenade. He's known his beleaguered boss, Detective Inspector Stephanie Flynn for years as he has his nearest neighbour, full-time shepherd/part-time dog sitter, Victoria.

And then there's Estelle Doyle. Dark and dangerous and sexy as hell. It's true the caustic pathologist has never walked down the sunny side of the street, but has she gone too far this time? Shot twice in the head, her father's murder appears to be an open and shut case. Estelle has firearms discharge residue on her hands, and, in a house surrounded by fresh snow, hers are the only footprints. Since her arrest she's only said three words: 'Tell Washington Poe.'

Meanwhile, a poisoner called the Botanist is sending the nation's most reviled people poems and pressed flowers. Twisted and ingenious, he seems to be able to walk through walls and, despite the advance notice given to his victims, and regardless of the security measures taken, he is able to kill with impunity.

Poe hates locked room mysteries and now he has two to solve. To unravel them he's going to have to draw on every resource he has: Tilly Bradshaw, an organised crime boss, even an alcoholic ex-journalist. Because if he doesn't, the bodies are going to keep piling up . . ."
Hello and welcome to damppebbles. Today I am delighted to share my review of The Botanist by M.W. Craven. The Botanist is the fifth book in the excellent Washington Poe series and was published by Constable last week (on Thursday 2nd June 2022) in hardcover, audio and digital formats with the paperback to follow later in the year. I chose to read and review a free eARC of The Botanist but that has in no way influenced my review.
Oh my goodness, it's my absolute favourite time of the year! You may think that's because it's FINALLY summer (although there's been little evidence of that so far!) but it's not that. You may think it's because I'm a secret royalist, patiently counting down the days to Queen Elizabeth II's platinum jubilee (yes, I know it was last week 😜). It's not that either. You may think I'm champing at the bit, waiting for Wimbledon to start. As if 😂 It's my favourite time of the year because of one thing and one thing alone. Historically, June is when the latest Washington Poe and Tilly Bradshaw adventure by master crime writer M.W. Craven is published! It's THE highlight of my reading year, without question. If you're a fan of intelligently written, utterly compelling detective fiction and you haven't discovered this series yet, then we need to have serious words! The Botanist has arrived people. What are you waiting for? You need this book in your life!
Detective Sergeant Washington Poe is having one helluva week, juggling two highly sensitive, intricate cases. His pathologist friend, Estelle Doyle, has been arrested for the brutal murder of her father which Poe firmly believes she did not commit. Poe is also hunting a highly organised serial killer the press has dubbed the Botanist, who is causing chaos by taking out the country's most hated individuals with flair, a poem, a pressed flower and an almighty pat on the back from the British public. The notice the killer gives his victims should be more than enough warning for the intended target to lock themselves away in a reinforced room, surrounded by the most elite of security forces. But no, absolutely nothing will stop the Botanist from dispatching their target. Usually in the most painful and horrific way possible. Can Poe and super intelligent analyst, Tilly Bradshaw, manage to solve the two most taxing cases of their careers before it's too late…?
As I mentioned before, this is the fifth book in the series and WHAT a series it is! Time and time again the author delivers, raising the bar with each new book. Every single release has been a hit for me. Every single new book is something new, something different, something that grabs my attention from the start and doesn't let go until I've turned the final page. The ideas are fresh, the characters are evolving magnificently, the plots are fascinating. I am officially hooked and M.W. Craven can do no wrong in my eyes!
But enough of the series, what about this latest instalment? The Botanist is an utterly absorbing, highly addictive read which I ADORED. Every single book has been superb but this latest addition, and Black Summer (book #2), are my two favourites so far. You can absolutely read The Botanist as a standalone but it's worth picking up all of the previous books as well. Otherwise you miss out on the early awkward days of Poe and Tilly's friendship (actually, it has a few awkward moments now but they've become more attuned to each other…sort of!) and a plethora of absolutely fascinating, gripping cases. I love the pairing of Poe and socially awkward but highly intelligent civilian analyst, Tilly. They make a formidable team, ably encouraged and supported, no matter what crazy idea they come up with, by DI Stephanie Flynn. Craven's trademark humour is pinpoint sharp, perfectly pitched and made me laugh out loud at several points. I SO enjoy the relationship between Poe and Tilly (and of course DI Stephanie Flynn). Their interactions, their friendship makes me smile. It's a joy to read!
I liked the push and pull of this story with Poe and Tilly dashing off up north to look into things in more detail for Estelle. Only to have the boss call them back to London after the Botanist strikes again. Unlike Poe I am a huge fan of locked room mysteries which is perhaps why The Botanist appealed to me so much. Not one mystery for my favourite crime fighting duo to solve, but two!
Would I recommend this book? I would, yes. The Botanist is a superb addition to an outstanding series which I believe every crime fiction fan needs on their bookshelf. Tense, gripping, clever, hugely compelling, truly divine characterisation, beautifully paced and darn well perfect in every respect. What more could you want? Tilly and Poe are the ultimate crime fighting duo, you won't find another pairing like these two and I love that! The Botanist is without a doubt a sure-fire five-star winner for me and will definitely be featuring in my favourite books of the year list. Quite near the top, I think 😉. The Botanist, along with the other books in the series, is a must read. Incredibly well-written and head and shoulders above others in the same genre. Highly, highly recommended.
I chose to read and review a free eARC of The Botanist. The above review is my own unbiased opinion.
The Botanist by M.W. Craven was published in the UK by Constable on 2nd June 2022 and is available in hardcover, audio and digital formats with the paperback to follow (please note, the following links are affiliate links which means I receive a small percentage of the purchase price at no extra cost to you): | amazon.co.uk | Waterstones | Foyles | Book Depository | bookshop.org | Goodreads | damppebbles bookshop.org shop |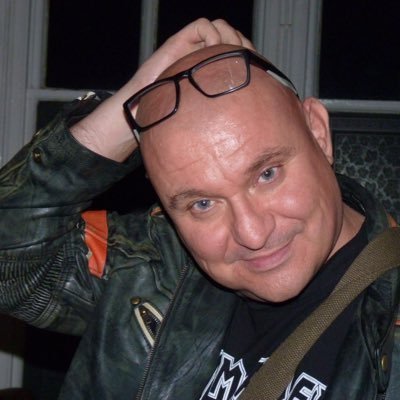 M. W. Craven was born in Carlisle but grew up in Newcastle, running away to join the army at the tender age of sixteen. He spent the next ten years travelling the world having fun, leaving in 1995 to complete a degree in social work with specialisms in criminology and substance misuse. Thirty-one years after leaving Cumbria, he returned to take up a probation officer position in Whitehaven, eventually working his way up to chief officer grade. Sixteen years later he took the plunge, accepted redundancy and became a full-time author. He now has entirely different motivations for trying to get inside the minds of criminals . . .
M. W. Craven is married and lives in Carlisle with his wife, Joanne. When he isn't out with his springer spaniel, or talking nonsense in the pub, he can usually be found at punk gigs and writing festivals up and down the country.