"Aged nineteen, devout Rachel marries fundamentalist Mormon, Blake Nelson, and moves to a remote homestead in rural Utah. Isolated and alone, Rachel obeys her husband's advice to keep sweet and prepare for End of Days.

Soon after their disappointing wedding night, Blake takes his second wife – emotionally-troubled, jailbait, Emily. Though it's not until the arrival of third wife Tina, a reformed junkie-stripper from Vegas, that the bitter rivalry sets in.

Out in the desert, the only thing the sister-wives have in common is an obsession with their righteous husband. Until, that is, Blake's body is found, brutally murdered near his favourite fishing spot, his wedding finger missing.

As police dig deeper, it seems a hot-bed of bitter tensions bubble beneath the pious Mormon exterior. Blake's sister-wives just couldn't keep sweet. But which was capable of murder?

Inspired by true events, this gripping tale of religious polygamy peeks under the covers of a real-life Mormon fundamentalist cult."
Hello, a very happy New Year to you and welcome to damppebbles. Today I am delighted to share my review of Black Widows by Cate Quinn. Black Widows was published by Orion Books on 2nd September 2021 and is available in hardcover, paperback, audio and digital formats.
For those of you with an excellent memory you may recall that Black Widows was one of the books I chose for the 20 Books of Summer Challenge last year. Unfortunately I didn't manage to get round to it during the three months of the challenge but I did promise to prioritise the remaining six books. This is the second of those six that I have managed to read and I am so incredibly glad that I did. I loved Black Widows!
Three very different women living in an isolated homestead in the Utah desert; Rachel, Emily and Tina. Cut off from the rest of the world and instructed to keep sweet. Just biding their time and waiting for the End of Days. Bickering, falling out and judging each other. Tensions between the women run deep. Because they're all married to the same man, Blake Nelson, a fundamentalist Mormon. When Blake's mutilated body is discovered down by the river, the finger of suspicion points at the wives. Each woman resents her sister-wives, they have their own troubling secrets which they'll do anything to keep. Including murder…?
Black Widows is a highly compelling, character-driven mystery which drew me in from the first page and didn't let go until the very last word. I savoured every moment I spent with this book and looked forward to picking it up every evening. The characters are multi-layered and stand tall from the page, each making an individual contribution to the tale. Their past lives are very different but they've all suffered trauma of some sorts. Rachel is devout and homely, wholesome and sweet no matter what life throws at her. She's also the first wife which gives her status over the other two. Emily is young and immature. Very much out of her league. I often felt my heart break for her as she found herself in situations she didn't know how to handle, often turning to TV crime dramas to help her process events. Tina, the third wife, has street smarts and a whole lot of sass that she'll use to get what she wants. An ex-Vegas stripper, she's worldly and will take risks the other wives won't. The three women are an unlikely team and it's clear from the outset that they don't get on. But will being charged of murder change that?
Would I recommend this book? I would, yes. I loved Black Widows and I'm so glad it's my first review of 2023, kicking the year off in style! I enjoyed spending time with the sister-wives. I thought the three very different characters made for fascinating reading. The reader gets to hear from each wife and see the situation from her point of view. What's clear is that there is very little trust amongst the wives, all believing the others could have killed Blake. But who did? Well, you'll just have to pick up a copy of Black Widows and find out for yourself! I will say I wasn't able to guess whodunit so the reveal was quite a shock! A very well-written, original mystery that I fully appreciated from start to finish. If, like me, you're a fan of a well-crafted, character-driven tale that draws you in and doesn't let go, then Black Widows is a must read! I cannot wait to read more by this author and have already downloaded a copy of Blood Sisters. Highly recommended.
Black Widows by Cate Quinn was published in the UK by Orion Books on 2nd September 2021 and is available in hardcover, paperback, audio and digital formats (please note, the following links are affiliate links which means I receive a small percentage of the purchase price at no extra cost to you): | amazon.co.uk | Waterstones | Foyles | Book Depository | bookshop.org | Goodreads | damppebbles bookshop.org shop | damppebbles amazon.co.uk shop | damppebbles amazon.com shop |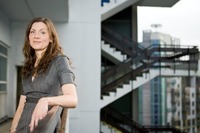 Cate Quinn is a travel and lifestyle journalist for The Times, the Guardian and the Mirror, alongside many magazines. Prior to this, Quinn's background in historic research won prestigious postgraduate funding from the British Art Council. Quinn pooled these resources, combining historical research with first-hand experiences in far-flung places to create critically acclaimed and bestselling historical fiction.