"When her missing husband is found dead in a car crash far from home, aspiring actress Sophie falls under suspicion. Can Sophie clear her name? What really happened to Tariq? To find out the truth, she must open the old wounds of her previous marriages and uncover long-kept secrets…

AMIR, THE FIRST LOVE

Sophie and Amir were drawn together after the death of a classmate but torn apart by another shocking tragedy.

FARAZ, THE REBOUND

A whirlwind romance, destroyed by betrayal.

TARIQ, THE SOULMATE

Recently widowed Tariq was everything Sophie had been looking for. Now he is gone, is Sophie just luckless or is there more to her than meets the eye?

Maybe one of Sophie's exes has something to do with Tariq's untimely death. Sophie herself is guilty of something, but is murder part of her ambition? The truth is buried in the past, and it's just a matter of time before the intricate web of lies draws tighter."
Hello and welcome to damppebbles. Today I am delighted to share my review of Spider by Azma Dar. Spider was published by Datura Books on 11th April 2023 and is available in paperback, audio and digital formats. I chose to read a free ARC of Spider but that has in no way influenced my review. My grateful thanks to Caroline at Datura Books for sending me a proof copy.
Datura Books is a brand new crime fiction imprint from the team at Angry Robot Books. The launch of a new crime only imprint is always an exciting thing but, when I saw their list of 2023 titles, I knew they were onto a winner! Spider by Azma Dar is only the second book to be published by Datura since its creation earlier this year, and I could not resist the draw of that stunning cover nor the intriguing blurb. I do love a domestic thriller and this one hooked me in from the get-go.
Sophie is unlucky in love. She met her first husband at school, he was her first love, but things with Amir didn't quite go to plan. Her marriage to her second husband, Faraz, was a mistake from the start. But on her third attempt to find her happily ever after, she struck gold with Tariq. Tariq was perfect for Sophie. A good-looking, successful businessman and widower. But one day, Tariq vanished without a trace. Only to turn up dead months later as the victim of a car accident. What drove Tariq to leave the family home? Was it something Sophie did? Or could one of her ex-husbands be responsible, consumed by jealousy and driven to exact revenge. Someone from Sophie's past knows the truth and it's only a matter of time before that truth comes knocking…
I loved everything about Spider by Azma Dar. I thought Sophie was utterly captivating as the lead character. She's flawed in many ways but that only made her all the more interesting. Sophie decides during her first marriage that her ambition in life is to be an actor. Something first husband, Amir, isn't so keen on. But that's not going to stop Sophie from doing what she wants to do! Sneaking around behind Amir's back, attending acting lessons. From here on in, you can't help but wonder how much of Sophie the reader sees is her acting a part and how much is real. And I loved that! I couldn't trust her at all. Throughout the story the imposing shadow of Suleiman, a distant relative of Amir's who isn't really related to him in any way, looms large over Sophie. Extorting large sums of cash for overseas projects he has on the go. Her ambition to become a famous actor coupled with her 'relationship' with Suleiman, show the reader how naïve Sophie is. Which only makes her all the more interesting in my eyes.
Would I recommend this book? I would, yes. Spider is a well-written novel which I thoroughly enjoyed reading. The story is told from multiple points of view, in both the past and the present. All three husbands, as well as our enigmatic lead, all have their say and get to tell their side of the story. And what a story it is! The flashbacks to the past, and in particular the early days of Sophie and Amir, before they were together, made for riveting reading. Their story is told in the first quarter of the novel and it was this insight into a young Sophie which grabbed my attention and had me hooked for the rest of the tale. I couldn't put this book down and was keen to find out how things would end. I was able to to predict a couple of aspects but it didn't spoil my enjoyment of the book at all. A compelling, highly intriguing domestic thriller with an unforgettable lead. I cannot wait to read more by Azma Dar. Highly recommended.
I chose to read and review a free ARC of Spider. The above review is my own unbiased opinion.
Spider by Azma Dar was published in the UK by Datura Books on 11th April 2023 and is available in paperback, audio and digital formats (please note, the following links are affiliate links which means I receive a small percentage of the purchase price at no extra cost to you): | amazon.co.uk | Waterstones | Foyles | bookshop.org | Goodreads |damppebbles bookshop.org shop | damppebbles amazon.co.uk shop | damppebbles amazon.com shop |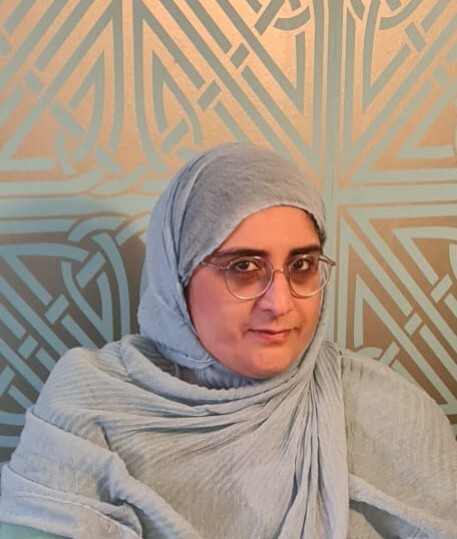 AZMA DAR is an author and playwright. She has written three full-length theatre productions, several short plays, a radio play for BBC Asian Network and has a forthcoming play entitled NOOR at Southwark Playhouse in November 2022. Her debut novel, The Secret Arts, was published by Dean Street Press in 2015.