"Your past and your family can haunt you like nothing else… A hilarious and terrifying new novel from the New York Times bestselling author of The Final Girl Support Group.

When Louise finds out her parents have died, she dreads going home. She doesn't want to leave her daughter with her ex and fly to Charleston. She doesn't want to deal with her family home, stuffed to the rafters with the remnants of her father's academic career and her mother's lifelong obsession with puppets and dolls. She doesn't want to learn how to live without the two people who knew and loved her best in the world.

Mostly, she doesn't want to deal with her brother, Mark, who never left their hometown, gets fired from one job after another, and resents her success. But she'll need his help to get the house ready for sale because it'll take more than some new paint on the walls and clearing out a lifetime of memories to get this place on the market.

Some houses don't want to be sold, and their home has other plans for both of them…"
Hello and welcome to damppebbles. Today I am delighted to share my review of How to Sell a Haunted House by Grady Hendrix. How to Sell a Haunted House is published by Titan Books today (that's Tuesday 17th January 2023) and is available in hardcover and digital formats. I chose to read a free eARC of How to Sell a Haunted House but that has in no way influenced my review.
This time last year I was aware of horror author Grady Hendrix but I hadn't read any of their books. And then I picked up a copy of The Final Girl Support Group and, oh boy, I was officially smitten. Now I have a collection of Grady Hendrix books on the bookshelf that I'm merrily working my way through (look out for my review of The Southern Book Club's Guide to Slaying Vampires coming to the blog soon!). It's safe to say the publication of a new GH book has quickly become one of my yearly reading highlights. All in the space of a few months! So it should come as no surprise that I jumped at the chance to read How to Sell a Haunted House. And I loved every creepy, phobia inducing minute of it!
Single parent, Louise, receives a call from her brother, Mark, informing her that their parents have died in a tragic accident. Louise is devastated but reluctantly packs a bag, leaves her five year old daughter, Poppy, with her ex and heads to Charleston to take control of matters. But on arrival it becomes clear to Louise that Mark is planning on doing things his own way. Including sidelining his sister at every turn. He's planned the funeral and now all that's left to do is clear out the family home so it can be sold to the highest bidder. Mark wants no fuss or sentimentality. But Louise feels differently. She wants to honour the memory of her parents, taking time to sort and clear their possessions. The house contains a lifetime of memories. And dolls. Dolls that seem to turn up in the most unlikely of places. As do her mother's homemade puppets. Louise and Mark may be hoping for a quick sale but the house has a different idea altogether…
How to Sell a Haunted House is an utterly compelling, thoroughly creepy read with exquisite characterisation which I found nigh impossible to be parted from for any length of time. I was so drawn into Louise and Mark's story. I felt desperately sorry for Louise who seemed to be overlooked in favour of her younger sibling throughout their childhood, only for adult Mark to throw his toys out of the pram at the most inappropriate moment. My blood pressure rose as Mark did everything in his power to usurp his big sister. Removing any and all power she held at a time when emotions were raw and relationships were incredibly fragile. But, of course, it's only as the reader progresses through the book that we get to really understand these beautifully crafted siblings and see what lurks beneath the surface.
Out of all of the horror tropes one of the scariest, for me, is the creepy ass doll. Only mildly creepier is the haunted puppet. There's not much in it really but the puppet is definitely the more sinister of the two. And How to Sell a Haunted House proves my point in abundance. Hendrix has literally created a monster. Part of me wanted to hide in the wardrobe from the malevolence of nasty little Pupkin. But I couldn't put the book down! I was completely immersed in the horror that was happening before me and I loved every chilling moment.
Would I recommend this book? I would, yes. How to Sell a Haunted House is my favourite Grady Hendrix novel so far, but I don't think you can go wrong in picking up one of this author's books. Everything I have read to date has been thoroughly entertaining, a whole lot of fun, perfectly pitched and pretty darn memorable. I do think, at times, the pace moved a little slower than in previous books but that's never a problem, providing the characters speak to me. And they certainly did! I was swept away by the author's clever storytelling to a world of stuffed squirrels and invisible dogs and weirdly, I didn't want to leave. All in all, How to Sell a Haunted House is a winner for me. I loved the characters, I loved what the author put the characters through and I loved that it was all just a little bit bonkers, in the best way possible. Highly recommended.
I chose to read and review a free eARC of How to Sell a Haunted House. The above review is my own unbiased opinion.
How to Sell a Haunted House by Grady Hendrix was published in the UK by Titan Books on 17th January 2023 and is available in hardcover and digital formats (please note, the following links are affiliate links which means I receive a small percentage of the purchase price at no extra cost to you): | amazon.co.uk | Waterstones | Foyles | Book Depository | bookshop.org | Goodreads | damppebbles bookshop.org shop | damppebbles amazon.co.uk shop | damppebbles amazon.com shop |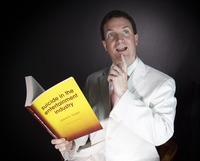 Grady Hendrix is the author of the novels Horrorstör, about a haunted IKEA, and My Best Friend's Exorcism, which is like Beaches meets The Exorcist, only it's set in the Eighties. He's also the author of We Sold Our Souls, The Southern Book Club's Guide to Slaying Vampires, and Final Girl Support Group!
He's also the jerk behind the Stoker award-winning Paperbacks from Hell, a history of the 70's and 80's horror paperback boom, which contains more information about Nazi leprechauns, killer babies, and evil cats than you probably need.
And he's the screenwriter behind Mohawk, which is probably the only horror movie about the War of 1812 and Satanic Panic.