"In horror movies, the final girl is the one who's left standing when the credits roll. The one who fought back, defeated the killer, and avenged her friends. The one who emerges bloodied but victorious. But after the sirens fade and the audience moves on, what happens to her?

Lynnette Tarkington survived a massacre twenty-two years ago, and it has defined every day of her life since. And she's not alone. For more than a decade she's been meeting with five other final girls and their therapist in a support group for those who survived the unthinkable, putting their lives back together, piece by piece. That is until one of the women misses a meeting and Lynnette's worst fears are realized—someone knows about the group and is determined to take their lives apart again, piece by piece.

But the thing about these final girls is that they have each other now, and no matter how bad the odds, how dark the night, how sharp the knife, they will never, ever give up."
Hello and welcome to damppebbles. Today I am delighted to be sharing my review of The Final Girl Support Group by Grady Hendrix. The Final Girl Support Group is published today (that's Tuesday 13th July 2021) by Titan Books and is available in all formats. I chose to read and review a free eARC of The Final Girl Support Group but that has in no way influenced my review,
The Final Girl Support Group, with its perfect cover, intriguing blurb and kick-ass concept, gave me palpitations at first sight. Everything about it screamed my name and cried out to be read. I just had to get my mitts on this book. And I'm so very, very glad I did! I completely ignored the rest of my TBR. Forgot about my planned schedule and ignored all other commitments until I closed the final page. If you follow damppebbles regularly you'll know that I love blood-soaked slasher novels and have a bit of a girl crush on the final girl trope, so this book ticked so many boxes for me as a reader.
Six legendary final girls meet in secret with their therapist to talk over their experiences and support each other. Yes, there are disagreements, fallings out and a lot of bickering, but the women have something which bonds them together and Lynnette, in particular, finds comfort in the meetings. Until one day, one of the women fails to attend group. Before long, it becomes clear that their secret meetings are no longer a secret. Lynnette is convinced someone has their sights set on the group. Now, all she has to do is convince the others and make it, in one piece, to the end…
I loved reading The Final Girl Support Group. It was a full-on, high energy read which I devoured in no time at all because I found it very hard to put down. I was a little bit smitten with Lynnette who, because of her experiences, is a smidge traumatised (obsessive, paranoid…goes without saying really!). I also found her a little frustrating at times but that only added to my enthusiasm. The other 'girls' are an eclectic, flawed mix and I thoroughly enjoyed finding out their stories. These aren't your normal, every-day final girls though. These six (there should be seven but no one mentions Chrissy…) are the most famous final girls in America and for good reason. I won't reveal anymore. You'll need to read the book to find out why but I loved all of the detail Hendrix puts into each character. They're all beautifully drawn, all different and unique in their own ways, they would be strangers in a different life, but the bond held between these woman is strong. That connection, that duty to each other, was what I loved most about the book.
The Final Girl Support Group has a totally absorbing, relentless pace to it which I adored. I was completely invested in the story and the characters from the moment I started reading. I was able to guess one aspect of the plot but I still savoured every minute I spent with this book. It didn't spoil my enjoyment at all because there was always more to come, more fantastically placed thrills and spills to make me keep turning those pages late into the night.
Would I recommend this book? I would, yes. The Final Girl Support Group was one helluva ride which I devoured quickly because I couldn't bear to be parted from it for very long. I've not read a book by Grady Hendrix before but it's clear this is a writer who knows how to tell a good story. I was hooked (😂 poor choice of word in a way, perhaps…) into Lynnette's monstrous world and I didn't want to leave. Absolutely flipping bonkers but so, so good! Highly recommended.
I chose to read and review an eARC of The Final Girl Support Group. The above review is my own unbiased opinion.
The Final Girl Support Group by Grady Hendrix was published in the UK by Titan Books on 13th July 2021 and is available in hardcover, paperback, audio and digital formats (please note, the following links are affiliate links which means I receive a small percentage of the purchase price at no extra cost to you): | amazon.co.uk | Waterstones | Foyles | Book Depository | bookshop.org | Goodreads | damppebbles bookshop.org shop |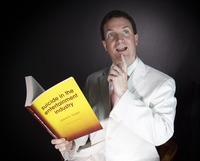 Grady Hendrix is the author of the novels Horrorstör, about a haunted IKEA, and My Best Friend's Exorcism, which is like Beaches meets The Exorcist, only it's set in the Eighties. He's also the author of We Sold Our Souls, The Southern Book Club's Guide to Slaying Vampires, and the upcoming (July 13!) Final Girl Support Group!
He's also the jerk behind the Stoker award-winning Paperbacks from Hell, a history of the 70's and 80's horror paperback boom, which contains more information about Nazi leprechauns, killer babies, and evil cats than you probably need.
And he's the screenwriter behind Mohawk, which is probably the only horror movie about the War of 1812 and Satanic Panic.
You can listen to free, amazing, and did I mention free podcasts